Thomas Memorial African Methodist Episcopal Zion Chruch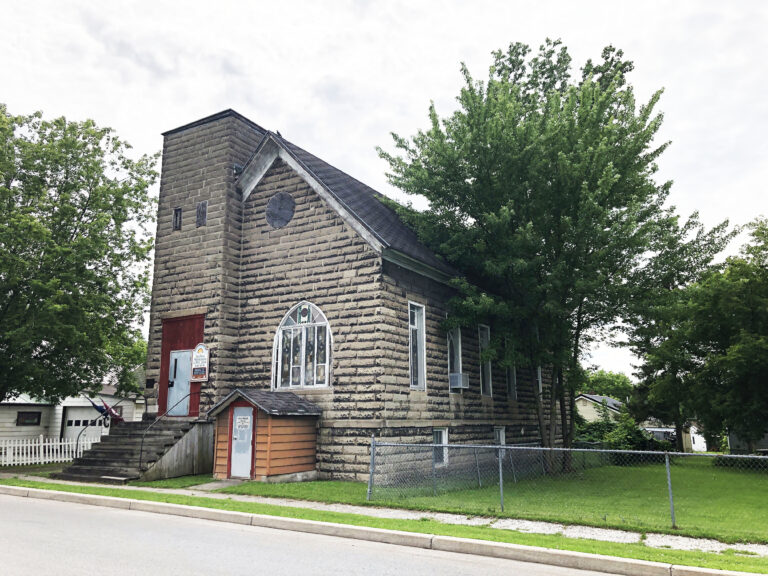 DEADLINE LOOMS FOR HISTORIC UNDERGROUND RAILROAD CHURCH
"WATERTOWN — A city official had hoped that someone would have come forward about the historic Thomas Memorial AME Zion Church on Morrison Street after it was deemed unsafe.
Carolyn Meunier, the city's code enforcement supervisor, sent a copy of a Feb. 26 letter to the People's AME Zion Church in Syracuse, in hopes that it would intervene in the situation before a deadline on Thursday.
"We haven't heard anything, she said."
From NNY360.com To read the entire article by Craig Fox dated March 11, 2020 go to:
https://www.nny360.com/communitynews/faithperspectives/deadline-looms-for-historic-underground-railroad-church/article_1f57c310-928a-5111-898e-fa97b62ba778.htmlby Craig Fox
LOCATION:
715 Morrison Street
DATE:
The Cornerstone is dated August 1, 1909
NARRATIVE:
The Thomas Memorial AME Zion Church, one of the important stops on the Underground Railroad, is vacant and boarded up. For the past several years that has been discussion about how to preserve and reuse the building
"The congregation of the Thomas Memorial African Methodist Episcopal Zion Church in Watertown is small but they are heirs to a remarkable heritage. Founded in the 1870s by former slave Henry Barr, a number of the church's original congregation had also escaped slavery and established themselves in Watertown after courageous, and often dramatic, journeys north. Since that time, the church has served members of the black population of Jefferson County, which has included descendants of early settlers and shipbuilders, railroad workers, and now military personnel from Fort Drum, as well as the descendants of those brave travelers of the Underground Railroad.
The church building, whose concrete bricks were handmade by church members, was erected in 1909. For more than two decades, church members have been working to bring attention to both this historic building and to the community's importance in the Underground Railroad. Their efforts include an Underground Railroad Museum in the church fellowship hall, and the 2001 addition of the church to the National Register of Historic Places."
Text from TAUNY "Very Special Place" Award in the Cultural Landmark, Religion and Ethnicity Category in 2000.
(For more information about TAUNY and the awards go to: https://tauny.org/ncha/portfolio/thomas-memorial-african-methodist-episcopal-zion-church/)
"Throughout its early years, the Watertown congregation of the A.M.E. Zion Church met in a private residence on River and Court Streets, with Reverend Hamilton Phoenix as the first Pastor".
"A principle benefactor of the Thomas Memorial A.M.E. Zion Church was the Young Men's Christian Association (YMCA), who acting on behalf of the A.M.E. Zion Church, purchased the property on Morrison Street on October 20, 1909. The church was built by the congregation, as they had little money to spend on the construction of the building, they did much of the labor themselves.
(From the National Register of Historic Places Registration Form, dated June 25, 2002, Section 8, Page 3)
"In addition to a new church building, the A.M.E. Zion congregation also got a new name. The white marble corner stone on the bell tower wall was inscribed "ThomasAfrican Methodist Episcopal Zion Church". The church was named after Frank Thomas, a long time member and then president of the Board of Trustees. Frank Thomas' name was also inscribed on the single stained glass window, along with Henry Gains and Eugene Thomas."
"The Thomas Memorial A.M.E.Zion Church is historically significant as the oldest surviving church building associated with the city of Watertown's first African American congregation whose members were active in Underground Railroad and anti-slavery fugitive activities"
"The Thomas Memorial A.M.E. Zion Church building on Morrison Street is a local landmark and testament to the historic development, struggles and achievements of Watertown's African-American population."
(From the National Register of Historic Places Registration Form, dated June 25, 2002, Section 8, Page 4)