Soldiers & Sailors Monument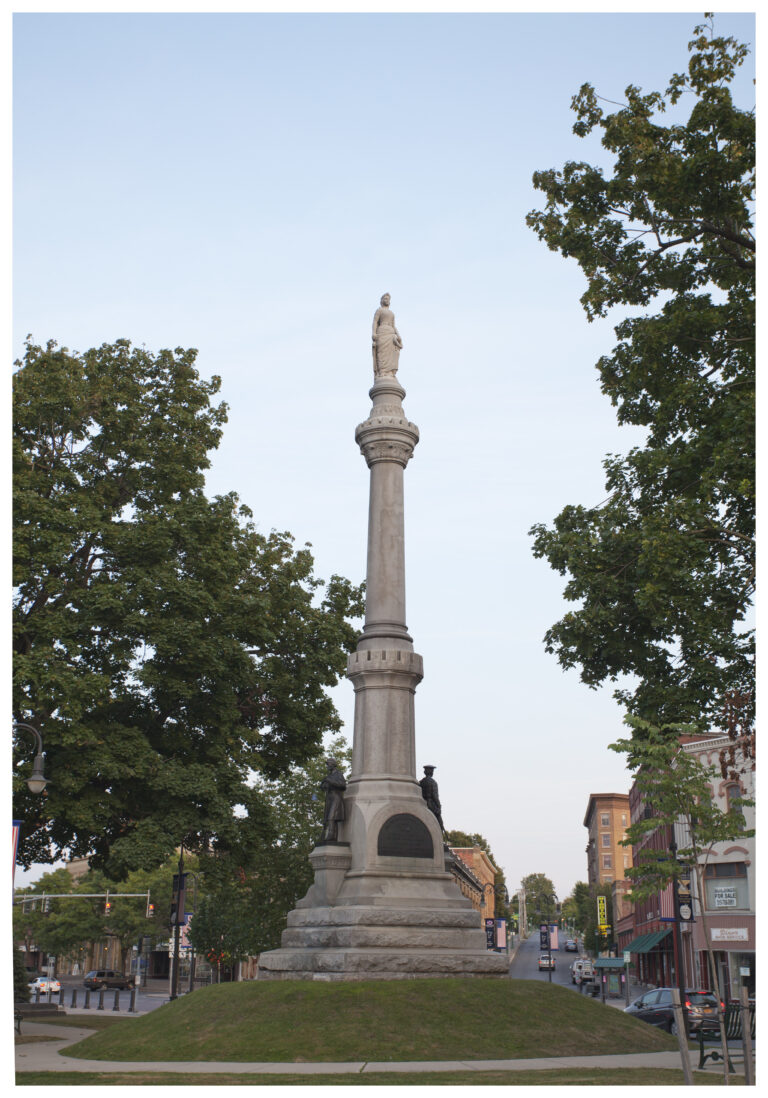 LOCATION:
Public Square
DATE:
1891
ARCHITECT:
Edward Pierce Casey
NARRATIVE:
The Soldiers and Sailors Monument was erected in 1891 to commemorate local citizens who fought in the Civil War. It's the centerpiece of on the former Village Green and most prominent feature.
The granite monument is approximately 50 feet tall, on a 12 foot tall base on a raised earthen berm. A seven and a half foot tall allegorical figure of Lady Victory stands atop a decorative column. Commemorative bronze plaques are on the east and west sides of the monument. A cast bronze soldier on the north side and a sailor on the south side were created by the artist Henry Augustus Lukeman.
"Henry Augustus Lukeman (January 28, 1872 – April 3, 1935) was an American sculptor, specializing in historical monuments. Noted among his works are the World War I monument in Prospect Park, Brooklyn, the Kit Carson Monument in Trinidad, Colorado and the Stone Mountain Confederate Memorial in Georgia.
To out learn more about the sculptor go to:
https://en.wikipedia.org/wiki/Henry_Augustus_Lukeman
ABOUT THE ARTIST:
"Edward Pearce Casey was born June 18, 1864, in Portland, Maine; where his father, Brigadier-General Thomas Lincoln Casey, served during the Civil War. Edward was educated at the Emerson Institute of Washington, D.C.; and graduated from the School of Mines of Columbia University; he received the degree of C.E. in 1886 and that of architect in 1888. He studied also at the Ecole des Beaux Arts in Paris, France.
In 1892, Casey replaced Paul J. Pelz as architect of the Library of Congress, whose construction his father directed until his death in 1896. In 1893, he was one of the six equal prize winners in the New York City Hall competition; and in 1900 won the first prize for a design for Taft Bridge over Rock Creek in Washington, D.C. In 1901, he won another design competition, for a design for the Ulysses S. Grant Memorial on the National Mall in Washington, D.C.
Soon after completion of the Grant Memorial, Casey moved to New York City, where he continued his architectural practice. In 1905 and 1906, Casey designed a new façade for a rebuild of the rectory at the Episcopal Church of the Incarnation in Manhattan. Casey died on January 2, 1940, and is buried in the family plot at the Casey Farm in Rhode Island."
From Wikipedia: https://en.wikipedia.org/wiki/Edward_Pearce_Casey