John Losee House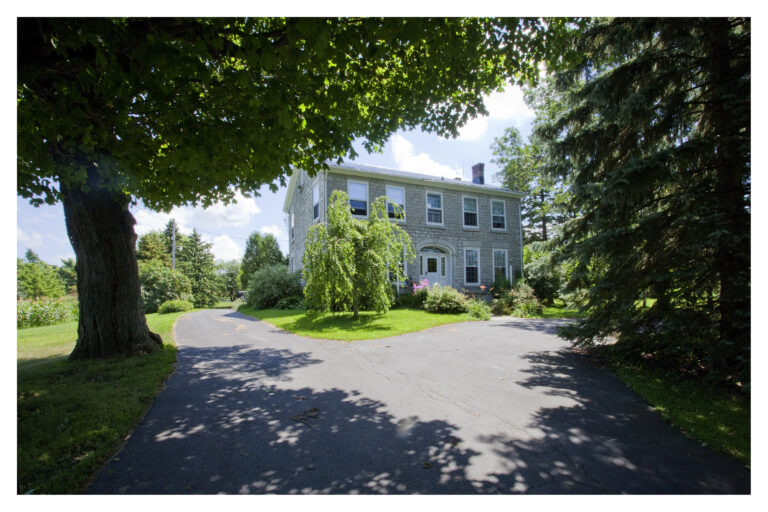 LOCATION:
17100 County Road 155
DATE:
1828
NARRATIVE:
John Losee, who came from the Mohawk valley in 1801 built this large stone house in 1828 on Dry Hill at the crest of the elevation now known as the Losee hill on the road leading from Watertown to Rodman. The house, with its fine front doorway of leaded glass side and fanlights, commands a majestic view of the Black River basin and of Sackets Harbor, as well as of the city of Watertown. It also looks down upon ancient Indian fortifications.
Owned by Supervisor Harry Y. Stone of the town of Watertown since 1916 it is the manor house of the 210 acre Stone dairy farm. Losee, the builder and original owner of the house, first purchased 188 acres of land and his son, John Losee Jr, had 318 acres. The elder Losee died in 1845 and is buried in a plot across the road from the house.
The house contains nine principal rooms besides hallways and closets and the rooms are high-ceilinged with numerous large fireplaces. The large verandah is of modern origin.
Dry Hill received its name from the fact that on it Joseph Sheldon, early and prominent settler, had a distillery.
Says a county historian: "Tradition has it that at one time there was an almost continuous stream of thirsty patrons traveling up the hill to Sheldon's still, and from this fact the name of 'Dry Hill' was derived."
Edited from: http://www.nymews.com/oldhouses/oldwatertown.html
The Losee House – 1823-28
The Losee House has the highest elevation of Jefferson County's stone houses and was once the center of a thriving farm. The entrance is especially beautiful with its wide, elliptical arch and keystone. The stone is rough, but evenly coursed on the front and sides, with smooth-cut lintels, sills, and water table. Possibly, the stone was drawn from a quarry a little way down the Dry Hill Road.
(From the essay by Maureen Hubbard Barros in the book: Stone Houses of Jefferson County)
The John Losee House is architecturally significant as a distinctive early National Period example of domestic architecture in the town of Watertown, Jefferson County New York. Built c1828 for John Losee, the nominated house stands as a chronicle of the vernacular architecture of the immediate post-settlement era of the region and as part of a regional building tradition of stone construction in the Black River area. Economic growth combined with abundant limestone deposits in the area allowed wealthier farmers like Losee to construct large residences, dressed in the latest fashion. Losee's five-bay, double pile, symmetrically composed, house was embellished with detailing and features like an elliptical fanlight over the front door, corner quoins, and federal mantelpieces.
From: https://www.nps.gov/nr/feature/places/14000004.htm