Hart Massey House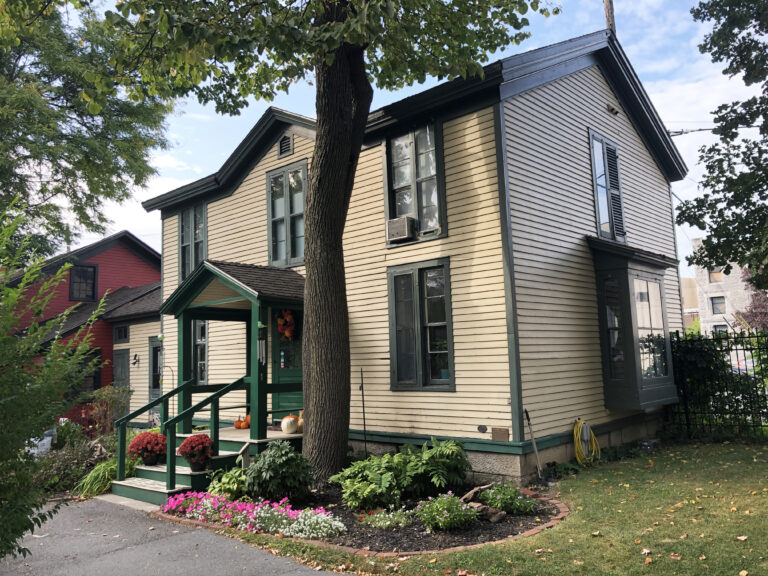 "When Hart Massey was born on 5 December 1771, in Salem, Rockingham, New Hampshire, British Colonial America, his father, Jonathan Massey, was 24 and his mother, Elizabeth Woodbury, was 23. He married Lucy Swain before 1796, in Reading, Windsor, Vermont, United States. They were the parents of at least 7 sons and 5 daughters. He died on 20 March 1853, in Watertown, Jefferson, New York, United States, at the age of 81, and was buried in Arsenal Street Cemetery, Watertown, Jefferson, New York, United States."
(From: https://ancestors.familysearch.org/en/G98Z-T9H/hart-massey-1771-1853)
There is more information about his family on that site.
LOCATION:
228 Washington Street
(Behind the Paddock Mansion)
DATE:
1803
NARRATIVE:
"Hart Massey was one of Watertown's first settlers, and is considered one of the city's founding fathers. Massey was born into a family of eight children in Salem, New Hampshire on December 5, 1771. He moved with his family in 1792 to Windsor, Vermont. Massey married in 1795, and moved with his wife to Lyme, New Hampshire. In the winter of 1800, Massey moved to Watertown, purchasing 90 acres that was roughly bounded today by Washington, Arsenal, Massey, and Clinton Streets. Massey built his first dwelling, a log cabin, on the site of the current Paddock Arcade. His family joined him in March of 1801. His family, then, was his wife, Lucy Swain, a daughter Mary, and sons Solon Massey and Stillman Massey. The first organized religious services held in Watertown were held in Massey's house on the first Sunday after his family's arrival. Hart Massey Jr. was born in that cabin in September, 1802. In 1803, Massey built a timber frame dwelling on the site currently occupied by the Paddock Mansion, today home of the Jefferson County Historical Society. Edward Swain Massey was born in that house on October 18, 1806. Edward was the builder of the First Presbyterian Church on Washington Street. In the summer of 1807, Hart Massey moved his young but growing family into a frame house near the western end of his property. A proper brick mansion was soon constructed adjacent to the frame dwelling. At ths location were born the younger of the Massey children, Albert, Serena, Marcellus, and Jane Massey. Hart Massey sold the timber frame house to Erastus Baker, who then sold it to Jabez Foster. In 1808, the house was moved to the corner of Sterling and Arsenal Sts., to make room for Jabez Foster's spacious mansion. When the Paddock Mansion was constructed in 1876, Massey's house was moved behind the mansion, where it still stands today. The Massey House is currently Watertown's oldest standing structure. In 1805, Massey was among those who donated land for the creation of what is today Public Square. Massey was soon to become a well liked and respected member of the community."
(From:https://ancestors.familysearch.org/en/G98Z-T9H/hart-massey-1771-1853)
The Hart Massey house is behind the Paddock Mansion, near the One Room School House, Pioneer Log Cabin and Early American Barn, next to the Masonic Temple and across Washington Street from the Roswell P. Flower Library, and walking distance from the Public Square.